Mission Month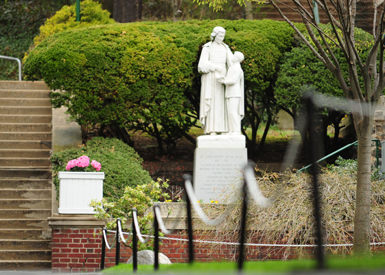 Over the years it has been said that while we live out the Mission year-round, each April we especially celebrate "Mission Month" as a way to be particularly mindful of the precious gift that our Lasallian core identity is and all the good works and meaningful relationships that exemplify and contribute fulfillment of our Mission. This year our lives are different! 
This Spring semester presents us with significant dilemmas of personal struggle, pain, stress and isolation with the coronavirus pandemic, along with greater awareness of the fragility of life and the depth of systemic racial and economic injustices.
Through each day of this most unique academic semester – no matter if we are in-person, high-flex, or remote – we are mindful of the struggle and resilience of the College community.  There is evidence that with great gusto, grace, and patience, the distinctive and sacred Lasallian Catholic Mission of Manhattan College continues to be brought to life – through so many of us.
Let us continue, as best we are able, to be mindful of the precious gift of the Lasallian heritage that has been entrusted to each of us, with its hallmarks of
Excellence in teaching 
Respect for human dignity
Reflection on faith and its relation to reason
An emphasis on ethical conduct
Commitment to social justice
Please find upcoming mission-focused events on the calendar here. 
Healing Through Solidarity Reflection Contest
As we moved towards the College's commemoration of "Mission Month" a bit differently this year, students were invited to participate in a monthly reflection contest designed to encourage dialogue, reflection and expression. We are excited to share our winners and their reflections below. 
Domenick Boccia '22 School of Education and Health

As it is a Lasallian's prime duty to serve fellow human beings, especially the underserved and those who are less fortunate, with a source of education, an outlet of emotional and spiritual support, and to demonstrate unconditional love towards all persons, similar to how our founder, St. John Baptist De La Salle did so himself I find that we are in a pivotal moment of history in which we as Lasallians hereby possess the power to initiate a final end to social injustice, inequality, and inequity. I envision this happening not just through our typical and classic educational styles of teaching, but through a unified bird's eye view that encompasses an excessive amount of empathy in regards to income and financial background. This empathy needs to be displayed towards not only children and students but current workers and adults who are unable to make ends meet financially as they were never given the appropriate opportunity to learn about financial literacy due to socioeconomic disparities. This supports them in educating their children on the importance of budgeting, managing money, and using banks thereby getting the ball rolling towards a more equitable future in which the playing field is leveled. 

It is evident that common education and the foundations of studying basic mathematics, reading comprehension, and science, play a key role in increasing the income of people who have a lower socioeconomic status. In addition, the school system creates an opportunity to earn an overall high enough income that will encourage financial security and a lifetime of financial well-being. Unfortunately, it is obvious in today's society that basic schooling, high school, higher education, and graduate programs alone are simply not enough to encourage the type of financial literacy needed to establish equitable conditions in which marginalized individuals are starting life on a starting line that is further back than non-minorities simply due to factors they cannot control such as race and gender.

We, as a Lasallian network, have done a great deal to support disadvantaged populations through acts of service, but we, as inclusive community members who have a deep concern for marginalized members of society, must not solely aim to relieve the symptoms of social inequity but must come together to heal and repair the roots of the problem itself. The problem here is a simple lack of financial literacy education amongst vulnerable populations such as women, Hispanics, and African Americans. 

We are living in a time where it is public knowledge that there is clear gender and race disparity in financial literacy, with reports that show that white people are more likely to answer financial literacy questions correctly compared to other ethnic groups, as well as there being no other category that has pay equity to white men. Studies also found that white women earn a higher percentage than black or Hispanic men. We cannot disregard the statistics at hand and must take steps to bring an end to these inequalities. It is important that there is a continuous dialogue between educators, employers, and clergy around this topic and how we can bring about change. 

There is unarguably a correlation between financial well-being and income but is evident that financial literacy is a precursor of financial stability, which is the overall economic stability that will support people or families for months and years, not just days and weeks awaiting a paycheck to make ends meet. Access to this information should not be maintained for those who have already acquired wealth, but should instead be made much more readily accessible to the marginalized members of society. As financial literacy classes and conversations become more prominent, there will be a valuable discussion about such a clear correlation between socio-economic inequality, annual income, and the presence of financial literacy.

An individual's mental and physical health can be clearly linked with being financially literate for various reasons. For example, the individual has the ability to monitor day-to-day budgets, handle financial surprises and disasters, such as unforeseen medical costs, the aftermath of natural disasters, or other emergencies, and is able to achieve financial expectations such as annual spending projections. In addition, that individual holds the pride and independence to make decisions financially that will overall enhance one's quality of life. If we, as Lasallians, are to look out for the greater good of all persons and to demonstrate our core principles in action, we could put a great emphasis on financial literacy awareness through new projects similar to the ideas behind The Passport Program, The University Neighborhood Housing Program, and The Getting Ahead Program. 

As a Kinesiology major here at Manhattan College I have an extensive concern for the well-being and public health of the population both physically and mentally. With this comes chronic disease prevention, through physical activity and nutrition, which has a clear connection to one's financial literacy. I firmly believe that through a financial literacy promotion at Manhattan College we will be saving lives, especially in the Bronx. Financial literacy, socioeconomic status, and chronic disease control are things you might not necessarily think to link together but in reality, the correlation between socioeconomic status and obesity rates linked to poor food choices is remarkably staggering. Evidently, the lower the income rate of an area the higher the obesity rate will be. Those who are financially illiterate are at a greater risk for developing long-term health issues as they will likely consume more unhealthy foods because they may not have access to quality food choices and are restricted to what is nearby and available. They also perform lower levels of outdoor physical activity as well-maintained and safe parks and recreation centers are scarce in these communities. Further, financial illiteracy may also be linked with being more likely to smoke and develop lung cancer as cigarettes are highly advertised and marketed towards lower-income areas. Low-income groups could have minimal exposure to high-quality healthy foods such as fruit and vegetables as well as safe playgrounds and essential air quality. Financial literacy advocacy and education is not just going to have a positive effect on the population's banks accounts, taxes, and investment portfolios but we will be improving cardiovascular health, reducing depression, and allowing for more valuable memories to be made for all in the process. 

With my passion for change through education, advocacy, and equal opportunity, I hope to be a part of a team of Lasallians that take a step forward in creating a safe space for those less fortunate to learn more financial literacy. To bring this reflection to a conclusion, I would like to note that I feel even more inspired than before to advocate for racial and gender equality in this regard after attending a virtual event earlier this month in which Misty Copeland spoke at. Misty Copeland, who is a 38-year-old professional ballet dancer at the American Ballet Theater, has become an icon as she is one of the few African American performers seen in classical dance. Misty spoke on her experience of discrimination and gender inequality as a black woman in such a predominantly white sport. As an author and speaker, she now uses her experience to help bring awareness and hopefully put an end to discrimation. Misty currently assists and amplifies the conversation on racial and gender disparity in dance, workplace, life, and now with many others at Manhattan College, including myself. I firmly believe that my attendance at this event opened my eyes wider than they were before in stepping a foot into the fire of fighting for social justice.
Kari Donovan '22 School of Engineering

After attending the Dedication of the Peace Pole event on February 26th, I was able to reevaluate my perspective on how as a nation and a world, we can instill healing through solidarity. This event marked the closing of a successful Peace and Justice Week. During this ceremony, I was fortunate enough to listen to several of our school's prominent leaders speak on behalf of Manhattan College. A speech that stood out to me was President O'Donnell's speech. President O'Donnell brought up the fascinating and illuminating topic on the importance of words. He explained that the primary emphasis of the Peace Pole Project comes from several languages to produce a simple, yet powerful message: may peace prevail on earth. I understood from his speech that words are what prompt us to take up the challenge and seek out our individual and collective roles in preparing the way for peace. A prominent lesson that stemmed from his speech is that everything starts with thought. Thought is another one of the Peace Pole Project's three tenants, in addition to the power of words. Thought is where any change or impact starts. Dr. Kevin Ahern, in his speech, brought up a quote from a message from Pope Paul VI stating a similar idea: 

Peace is not something that is won and achieved once and for all. It is a state that has to be nourished constantly with works of peace. Before peace can be had, it is necessary that a mentality of peace, a conscience of peace be had. It is imperative to educate in the ways of peace and justice. 

This gave me a new perspective on how we as a people need to come together to approach peace in solidarity. Peace isn't the lack of war, it is a mindset. A lack of conflict alone will not bring about the kind of healing change we need, but a change of heart will. Peace is everyone actively seeking to be in harmony with those around them. Solidarity in peace, is solidarity that heals. The only way to spread this mindset is through peace and justice education. I have been blessed as I am able to attend a college that was a pioneer in the realm of peace and justice studies. As a 7 year Lasallian, I have our Lasallian Core Principles ingrained in me, but there are those who are not so fortunate. At Manhattan College alone, I have had the ability to participate in service opportunities in three courses. I have also had the privilege of being a part of Lasallian Ambassadors due to my Lasallian background, and it too has afforded me opportunities to be a part of the social justice mission. In my time as a student in Lois Harr's Urban America and Catholic Social Teaching course, I was able to live out the Lasallian mission as a tutor for elementary aged children in the Bronx. The importance of education cannot be understated in impoverished communities. In a lot of cases, the only way to break the cycle of poverty is through a quality education and access to academic help. This experience enlightened my understanding of how much progress needs to take place to achieve a union of peace. If we allow underprivileged people to not have access to the tools needed to be successful in life, there will never be peace. Until we can take care of the injustices surrounding the lack of proper education, we cannot make peace our reality. As stated in the April 2020 Declaration on the Lasallian Educational Mission: 

We believe in the transforming capacity of education. Education is the most important intervention in the formation of the human being insofar as it allows the communication of values, the acquisition of knowledge, the building up of human networks, the expression of dreams and the emanation of a new paradigm about the human being, society, life and our relationship with nature. Education builds equity to the extent that it generates opportunities for personal, community and social development, while dignifying people and transforming societies (120). 

This statement alone reveals how we can heal as a society through education. If we can only pave the way to peace through the power of thought, the only way to achieve a peaceful mindset is through the power of education. Education is our strongest tool to achieving some semblance of peace on earth. It builds bridges between diverse groups of people and allows for a more equitable foundation for our societies. The "...emanation of a new paradigm about the human being, society, life…" is achievable through acts and awareness of the mission of peace. The addition of the Peace Pole to our school campus is just one way to bring attention to the mission. But as Rachel Roca, the President of the Just Peace club said during the ceremony: "Let us utilize the symbol as a tool to motivate us and to guide us. Having the pole in our presence, this symbol is not enough… symbols are only as powerful as we allow them to be." Rachel Roca's point is not to be taken lightly. Symbols of our desires for peace and justice are not enough. We cannot have true peace until we are ready to take the faults in our society head on. We must be prepared to embrace the duty and responsibility that comes with a goal of peace. We cannot heal in solidarity if we are to let the symbols of peace be our only actions towards it. Education will be the building block toward a better future. Step by step, we will impact people's thoughts and words until collectively we have decided to enter into a new era of peace. Peace not only without war or conflict, but with an informed and harmonious mindset. Just as over 200,000 institutions have embraced the International Peace Pole Project in solidarity, we as a society, a nation, and a world can embrace the future of peace and start our process of healing through the power of education. I look forward to doing my part in enabling that healing change, whether it be through tutoring, being a Lasallian Ambassador, or spreading the word of the change we all envision. I hope to look back on the day Manhattan College dedicated the Peace Pole and see it as a day that inspired hearts and propelled change in our community toward a better future.

Works Cited 

Ahern, Kevin. Dedication of the Peace Pole. Manhattan College. Bronx, NY. 26 Feb. 2021.

O'Donnell, Brennan. Dedication of the Peace Pole. Manhattan College. Bronx, NY. 26 Feb. 2021.

Roca, Rachel. Dedication of the Peace Pole. Manhattan College. Bronx, NY. 26 Feb. 2021.

 

 
Micaela Beatty '21 School of Education and Health

As a former gymnast and survivor of sexual assault, I was truly touched when Manhattan  College announced two-time Olympian Aly Raisman was speaking to students about how  important it is to have a voice. Aly Raisman discussed her sexual assault story and realized how  many others were in similar situations. Although at first it was disturbing to her to see how many  people went through a similar experience, she knew that by sharing her story she was validating  many of these survivors and creating a space for others to share their stories. This was extremely  empowering to me as a survivor because Aly Raisman was able to make me feel validated with  the traumatic events I had experienced. She also explained how healing from sexual assault can  look different for everyone. By sharing her story, she hopes to encourage others to come forward and use their voices to be heard. While this is an important start to redefining rape culture, it is  imperative to also turn to colleges and universities where unfortunately many of these assaults  occur. 

The article "A Lasallian Response to Rape Culture" written by Jordan Pascoe, PhD, and  Sarah Scott, PhD, analyzes Lasallian values in a new light to demonstrate that these values reveal  how members of Lasallian institutions can reconstruct rape culture. More specifically, this article  examines the Lasallian values of silence and association to illustrate how the Lasallian mission  should incorporate helping survivors heal through solidarity. It is critical to discuss that rape  culture thrives off of silence. This is due to the fact that sexual assault survivors are often fearful  that others will not believe them. As a result, they do not share their stories and fall into the trap  of "self-silencing" (137). As the Lasallian virtue of silence is analyzed in the article, it appears  that silence can be defined in a multitude of ways. The first being the most evident by which  silence is a lack of speech. The article explains how important it is for a survivor to share their  story. The first person a survivor shares their story with will determine if they will continue  sharing their story at all. However, as survivors come forward and start using their voices, many  times comments can be used as a weapon to deny their testimony. These hurtful comments can  make the survivor feel as if they "failed as a knower of [their] own experience" (137). This is  extremely harmful to the survivor, because getting negative feedback from sharing their story  with one person, will prevent them from sharing their story with others. When these comments  are made the survivor starts to believe that there is no purpose to report the assault and this will  prevent them from beginning the healing process.

While silence may seem like the issue at hand, the Lasallian virtue of silence presents a  way to combat these issues as a result of rape culture. Instead of thinking of silence as a lack of  speech, the Lasallian virtue of silence includes actively listening to those who need to be heard.  This includes victims of sexual assault because oftentimes they are more vulnerable. More  specifically, in Lasallian institutions it is up to the faculty to be the active listeners for their  vulnerable students who may have experienced sexual assault. Depending on how well the  faculty can practice the Lasallian virtue of silence will determine if students "will be heard by  those with greater systemic power in the institution" (139). By allowing students to have a voice,  this will not only empower survivors to share their own stories, but it will also encourage other  survivors to share theirs. Therefore, silence is powerful for survivors as it creates a space for  them to project their voices and share their stories. It is imperative that Lasallian institutions  follow this Lasallian virtue of silence as it can prevent the continuation of the cycle created by  rape culture. By breaking the cycle, Lasallian institutions are standing in solidarity with the  vulnerable and encouraging them to heal. 

The other Lasallian value the article examines is association, which is discussed to help  students in Lasallian institutions navigate their way in understanding what healthy relationships  should look like. The Lasallian value of association teaches "the ways we treat colleagues and  students" (144), but the article hints that if Lasallian educators can model this, they can also  "teach the application of these values with respect to sexual relationships" (144). This means that  the Lasallian value of association should be applied to all types of relationships as this can help  prevent rape culture from becoming even more normalized than it already is. Furthermore, as the  value of association is initiating this conversation of healthy sexual relationships, it can also open  the door to communication around sexuality. This can speak to a number of concepts including  how to redefine consent so that it is "not a male right to female bodies" (143) or how to  deconstruct the misconceptions that come from students using media and pornography to define  normal sexual relationships. Therefore, the value of association can help survivors heal because  by reeducating college students on sexual relationships this will ultimately work to reconstruct  rape culture by providing the framework for healthy sexual interactions and relationships. 

While the value of association can help reconstruct rape culture, it is strongest when  accompanied by the Lasallian virtue of silence. It is clear that these values can be helpful to  survivors as the theme of solidarity is crucial for healing. More specifically, in Manhattan 

College, faculty and students use these values to work together to create "new spaces, like a  Women's and/or Gender Center" (146) and implement coursework that delves deeper into these  conversations. However, these are only voluntary spaces in which the majority of students are  women. Therefore, it is important to recognize that the Lasallian values of silence and  association call upon all faculty and students, both men and women, to stand in solidarity and  allow survivors to properly heal from their traumas.