Vice President for Student Life: Profile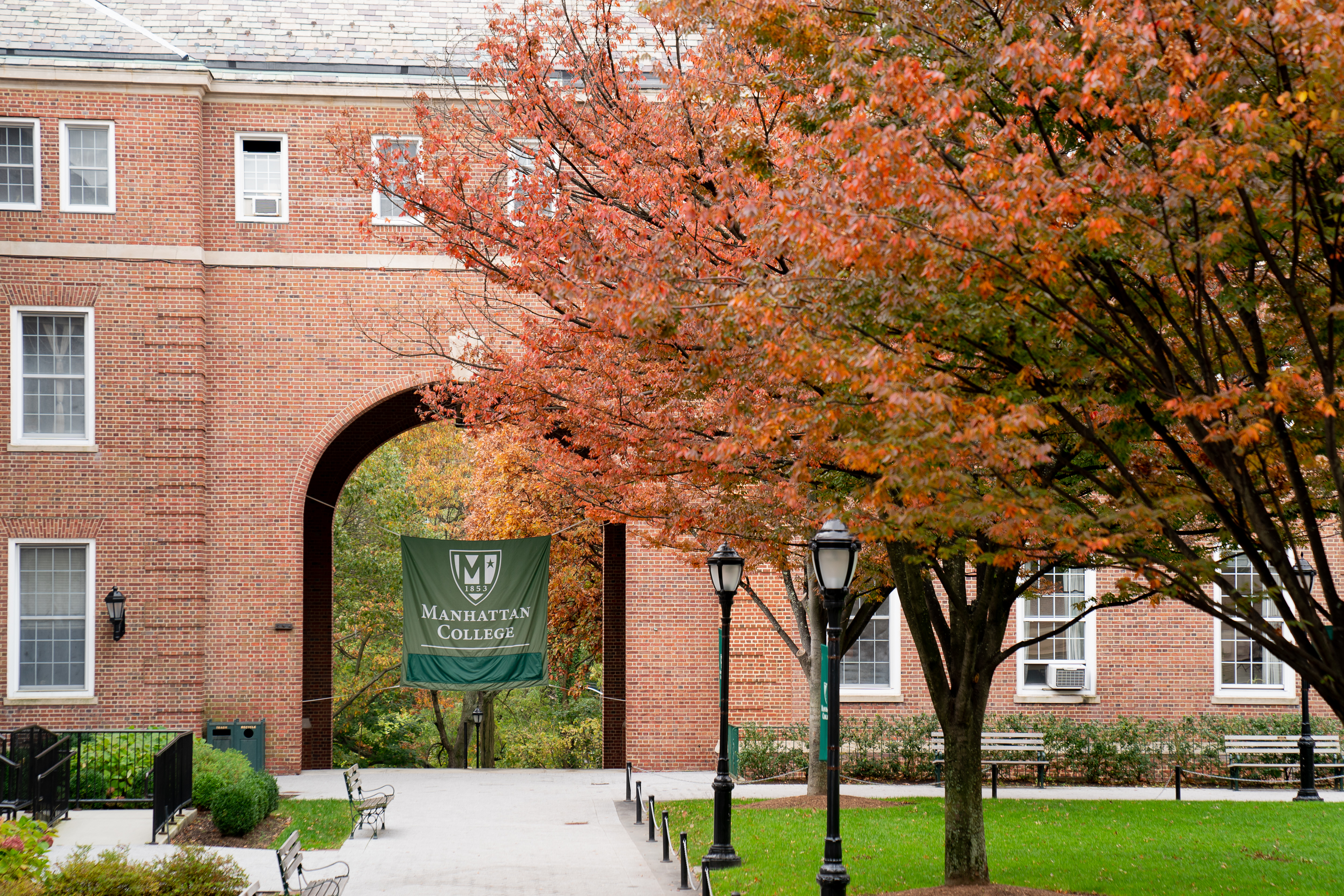 Manhattan College seeks a dynamic, innovative and collaborative leader to assume the position of Vice President for Student Life. See below for instructions to apply for this position. 
Manhattan College
Overlooking Van Cortlandt Park in the Riverdale section of the Bronx, New York City, Manhattan College is an independent Catholic institution of higher learning that embraces qualified men and women of all faiths, races, and ethnic backgrounds. Established in 1853, the College is founded upon the Lasallian tradition of excellence in teaching, respect for individual dignity, and commitment to social justice inspired by the innovator of modern pedagogy, John Baptist de La Salle.
Manhattan College Mission
Manhattan College is an independent Catholic institution of higher learning that embraces qualified men and women of all faiths, cultures, and traditions.  The mission of Manhattan College is to provide a contemporary, person-centered educational experience that prepares graduates for lives of personal development, professional success, civic engagement, and service to their fellow human beings.  The College pursues this mission through programs that integrate a broad liberal education with concentration in specific disciplines in the arts and sciences or with professional preparation in business, education and engineering.
Established in 1853 by the Institute of the Brothers of the Christian Schools, the College continues to draw its inspiration from the heritage of John Baptist de La Salle, the innovator of modern pedagogy and patron saint of teachers.  Among the hallmarks of this Lasallian heritage are excellence in teaching, respect for human dignity, reflection on faith and its relation to reason, an emphasis on ethical conduct, and commitment to social justice. 
Manhattan College: A Historical Perspective
In May 1853, five members of the Brothers of the Christian Schools moved their small Canal Street school to what was then known as Manhattanville, a section of New York City at 131st Street and Broadway. The Brothers brought with them an educational tradition originating  in 17th  century  France with their founder, John  Baptist  De  La Salle, since designated by the Catholic Church as the Patron Saint of Teachers. De La Salle formed a community of religious Brothers who, instead of seeking ordination as priests, would devote themselves directly to teaching school among what today would be called underserved or underprivileged communities. In the process, he created a new type of school system that would transform teaching into a profession and a vocation. The Brothers were urged to go beyond rote memory to "touch the hearts" of the students.  Practical subjects were taught that would lead to a useful role in society; religion was taught to impart a commitment to Christian ethics.
Between 1853 and 1863, the school changed rapidly, adding college-level courses in 1859 and first using the name Manhattan College in 1861. The new College was chartered by the New York State Board of Regents on April 2, 1863, and the first catalogue stated its goals-to afford young people the means of acquiring the highest grade of education available in the best American universities or colleges. While the curriculum emphasized a thorough grounding in classical languages, prominence was also given to higher mathematics and natural sciences; thus, the College combined the advantages of a first-class liberal-arts college with those of a polytechnic institute. This combination of excellence in the traditional liberal arts with an emphasis on professional and technical education was highly unusual for its time and marks Manhattan's distinctive identity even today. Also unusual in the 19th century was the diversity of Manhattan's Board of Trustees, in that it combined secular independent members and representatives of the Brothers of the Christian Schools.
As the school grew, new quarters were needed. The cornerstone of the "New Manhattan" was laid in 1922 on property bordered by the Hudson River and Van Cortlandt Park, its present location. The addition of new buildings and student residences has enlarged and enhanced the campus significantly. From this accessible, self-contained campus environment, the College is able to offer convenient access to the cultural, educational, business, and entertainment opportunities of New York City. 
Manhattan College is a Catholic school in the Lasallian tradition. This legacy continues to inform the College in many ways, from its curricular attentiveness to values-based education grounded in the humanities and the liberal arts to its encouragement of its students to engage in meaningful community service and community enhanced learning. An especially important part of the legacy is the College's continuing commitment to providing access to a high quality education to students who otherwise might be excluded from that opportunity. Manhattan was historically ahead of its peers in providing special scholarship funds for disadvantaged and minority students and today continues to work diligently to keep education affordable for first-generation students from diverse ethnic communities.  
The College has continued to realize the objectives stated in its first catalogue by maintaining a full range of programs in the liberal arts and sciences linked with professional programs in engineering, business, science, and education.  Among the many indicators of the quality of its programs is the presence of chapters of such prestigious honor societies as Phi Beta Kappa, Sigma Xi, Kappa Delta Pi, Tau Beta Pi, and Beta Gamma Sigma.
Over the years, an evolution has taken place in the composition of the faculty.  While Manhattan still enjoys the extraordinary service and the presence of its Christian Brothers community, lay teachers now predominate. The College became coeducational and accepted its first women undergraduate students in 1973. Currently, women number 45% of the full-time undergraduate student body.
With the opening of Horan Hall in 1990, and its twin East Hill Tower II in fall 2008, Manhattan has striven to maintain an even balance between residential and commuting students. While the pandemic has led to declines in housing occupancy, the college is working to rebuild occupancy at least to 2019 levels.  Currently, the College has a student body of approximately 3,900 full- and part-time undergraduate and graduate students. The student-faculty ratio is thirteen to one.
The Position
The vice president for student life of Manhattan College, reports directly to the president, Dr. Brennan O'Donnell, and serves as a member of the President's Executive Cabinet. The vice president for student life manages Athletics, Campus Ministry/Social Action, Career Development, Counseling Center, Dean of Students, Food Services, Health Services, Residence Life, Security and Student Development. The successful candidate will be a dynamic and experienced leader with a proven record and a clear vision for the future of student affairs. He or she will be a professional who embraces our mission and is able to assure that the College's Catholic and Lasallian values remain the foundation for the student life experience. Additional qualifications and abilities include: strong commitment to and expertise in supporting a campus-wide culture of diversity, equity, and inclusion; understanding the complexities of managing a Division I Athletic Program noted for its very high graduation rate, gender-equity compliance, and conference competitiveness; providing leadership, guidance and strategic planning to multiple directors and departments; serving as an active and positive member of the Senior Management team that supports the President of the College; a commitment to professional development as evidenced by membership and leadership in professional organizations;  excellent interpersonal and communication skills. A minimum of 10-15 years professional experience in a college/university setting, including extensive experience with student affairs administration, policies, and services, is essential. Master's degree is required. Doctorate is highly preferred. Candidates actively pursuing a doctorate may also be considered. The successful applicant must embrace the college's Lasallian traditions and represent its academic and support programs effectively to the president, deans, faculty, public, media, alumni/ae, donors, and the Board of Trustees.
Strategic Priorities for the Vice President for Student Life
Since his appointment as Manhattan's 19th president in 2009, President O'Donnell has demonstrated a clear commitment to preserving and deepening the college's distinctive character while establishing a vision for a new level of excellence across the range of the college's programs and activities. That vision calls for Manhattan to be a leader in fostering an integrated approach to academics and student-life.  Manhattan's focus on the developmental education of the whole person, fostered in a campus environment with direct access to all that New York provides, presents opportunities for a talented leader to strengthen and create the co-curricular and extra-curricular programs required by an increasingly diverse student population.   
The college is seeking a dynamic, innovative leader to oversee student life. She/he will be someone who can embrace, value, and speak to the distinctive qualities of Manhattan College. The new vice president for student life will be expected to work closely with the president both in implementing the goals of the college's long -standing strategic plan, and in crafting and implementing the next stage in Manhattan's growth and development. The new vice president for student life must work diligently to build and maintain a transparent and trusting climate that embraces partnering toward common goals. She/he must work in tandem with the president to encourage continued support of the college's ever growing programmatic and resource needs.
Manhattan College seeks a vice president for student life that will serve the Lasallian Catholic educational mission of the College by promoting religiously and philosophically grounded moral virtues and values, the Catholic social justice tradition, student leadership and lifelong learning through social and spiritual supports; provide a caring and safe campus environment that fosters a culture of diversity, equity, and inclusion; support a living and learning experience that is a catalyst for individual development and community achievement; work to ensure that all persons in student life leadership and staff positions are conversant with the nature of the Catholic and Lasallian heritage of the College, and educate students to this essential aspect of the mission.
Desired Leadership Characteristics
The ideal candidate will be:
An experienced student affairs professional with a complete understanding of student life principles.
An excellent communicator and mentor with the proven ability to counsel and mediate student affair issues. 
A proven administrator with demonstrated ability to work collaboratively with students, faculty, staff, alumni, donors and parents.
An administrator who has shown evidence of a strong commitment to enhancing institutional diversity, equity, and inclusion.
An administrator with experience managing and monitoring large budgets and personnel issues. 
An administrator who is knowledgeable about and a proponent of living learning communities.
An administrator who understands the mission of the college, is goal orientated and thinks strategically. 
A thoughtful, caring individual with a strong work ethic and a person-centered approach to interacting with his/her staff and all student affairs issues.
Apply to this Position 
Please send a cover letter, resume, three professional references and salary requirements to: Ms. Barbara Fabé, Vice President for Human Resources at vpstudentlifesearch@manhattan.edu. All materials must be submitted electronically by November 15, 2021.  
Manhattan College is an independent Catholic coeducational institution in the Lasallian tradition. We expect our faculty, administration, and staff to be knowledgeable about our mission and to make a positive contribution to the mission. Applicants from historically underrepresented segments of the population are encouraged to apply, as well as those attracted to a college with a Catholic identity. We are committed to a diverse campus community. AA/EO Employer M/F/D/V